1
« on: November 15, 2018, 03:29:05 PM »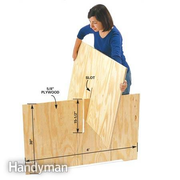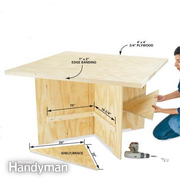 This table is made from a full sheet of 5/8-in. plywood for the interlocking base stand and a sheet of 3/4-in. plywood for the work surface and shelves. You'll also need four 10-ft. lengths of 1×3 pine for the edge banding and cleats.
Cut two 30-in. high by 48-in. long pieces from the 5/8-in. plywood for the base pieces. Then cut a slightly oversize 5/8-in. wide slot in the bottom half of one base and in the top half of the other. Make both slots about 15-1/2 in. long. Assemble the base and position the top so the corners are aligned with the legs. Screw loose fitting 12-in. long 1x3s along each side of each leg to hold everything stable.
The table is much more stable if you use the 3/4-in. waste from the top to make triangular braces (which also act as shelves) with 20-in. long sides. Using 1-1/4 in. drywall screws, attach 1x2s to the base about 12 in. up from the floor and screw the shelves down.